Compassion as the foundation of interreligious and cultural dialogue
Keywords:
compassion, interreligious dialogue, culture, encounter, education
Abstract
This paper aims to argue how compassion is configured as a fundamental category that enables interreligious and cultural dialogue. In all major religious traditions, there is a wealth of wisdom that involves the assimilation of values and virtues that facilitate and foster feelings of compassion, which can lead to encounters with other religions and cultures in order to experience peace.
Downloads
Download data is not yet available.
References
BERZOSA, R., Evangelizar en una nueva cultura. Respuestas a los retos de hoy, San Pablo, Madrid 1998.
BEUCHOT, M., "Hermenéutica analógica y crisis de la modernidad", Revista de la Universidad Pontificia de México 567/568 (1998) 10-13.
BEUCHOT, M., Los derechos humanos y su fundamentación filosófica, Universidad Iberoamericana, México D.F. 2002.
BEVANS, S. B. - SCHROEDER, R. P., Teología para la misión hoy: Constantes en contexto, Verbo Divino, Navarra 2009.
CALLEJA, J. I., Misericordia, caridad y justicia social. Perspectivas y acentos, Sal Terrae, Maliaña 2016.
COMPENDIO DE LA DOCTRINA SOCIAL DE LA IGLESIA, 2005.
CORTINA, A., Aporofobia, Paidós, Barcelona 2020.
DE SOUSA SANTOS, B., "Introducción: Epistemologías del Sur", http://www.boaventuradesousasantos.pt/media/INTRODUCCION_BSS.pdf , citado el 13 de octubre de 2022.
EINSTEIN, A. - FREUD, S., "Dos cartas de Einstein y Freud sobre 'los hombres y guerra'", Relaciones Internacionales 1 (1980) 123-132.
ESPEJA, J., El Evangelio en un cambio de época, Verbo Divino, Navarra 1996.
FRANCISCO, Carta encíclica Fratelli Tutti. Sobre la fraternidad y la amistad social, Editrice Vaticana, Asís 2020.
FRANCISCO, Exhortación Apostólica Evangelii Gaudium, Editrice Vaticana, Roma 2013.
HINKELAMMERT, F., "La inversión de los derechos humanos: el caso de John Locke", Pasos 85 (1999) 20–35.
JIMÉNEZ, M. J., Teología de la paz: Aporte a la transformación misionera de la Iglesia, PPC, Bogotá 2016.
KASPER, W., La misericordia: Clave del Evangelio y de la vida cristiana, Sal Terrae, Santander 2012.
LUCAS LUCAS, R., Horizonte vertical. Sentido y significado de la persona humana, BAC, Madrid 2010.
MEJÍA CORREA, I. F., La compasión en la antropología teológica: Una mirada desde la obra de Jesús Espeja Pardo, USTA, Bogotá 2019.
MEJÍA ESCOBAR, R., Educación (es) en la (s) globalización (es) I. Entre el pensamiento único y la nueva crítica, Desde abajo, Bogotá 2006.
NOAH HARARI, Y., De animales a dioses. Breve historia de la humanidad, Debate, Bogotá 2018.
NOVOA PALACIOS, A. (dir.), Aportes de la educación religiosa a la reconciliación y la paz, Paulinas, Bogotá 2017.
RORTY, R., "Derechos humanos, racionalidad y sentimentalidad", en: Derechos humanos: Las conferencias de Oxford Amnesty, Trotta, Madrid 1998, 117–36.
TAMAYO ACOSTA, J. J., La compasión en un mundo injusto, Fragmentos, Barcelona 2021.
TAMAYO ACOSTA, J. J., Nuevo paradigma teológico, Trotta, Madrid 2004.
TAMAYO ACOSTA, J. J., Otra teología es posible: Pluralismo religioso, interculturalidad y feminismo, Herder, Barcelona 2011.
TEXEIRA, F., Teología de las religiones: Una visión panorámica, Abya-Yala, Quito 2005.
Torres Queiruga, A., Diálogo de las religiones y autocomprensión cristiana, Sal Terrae, Santander 2005.
VALADEZ FUENTES, S., Globalización y solidaridad: Una aproximación teológico - pastoral desde América Latina, Universidad Pontificia de México, México 2005.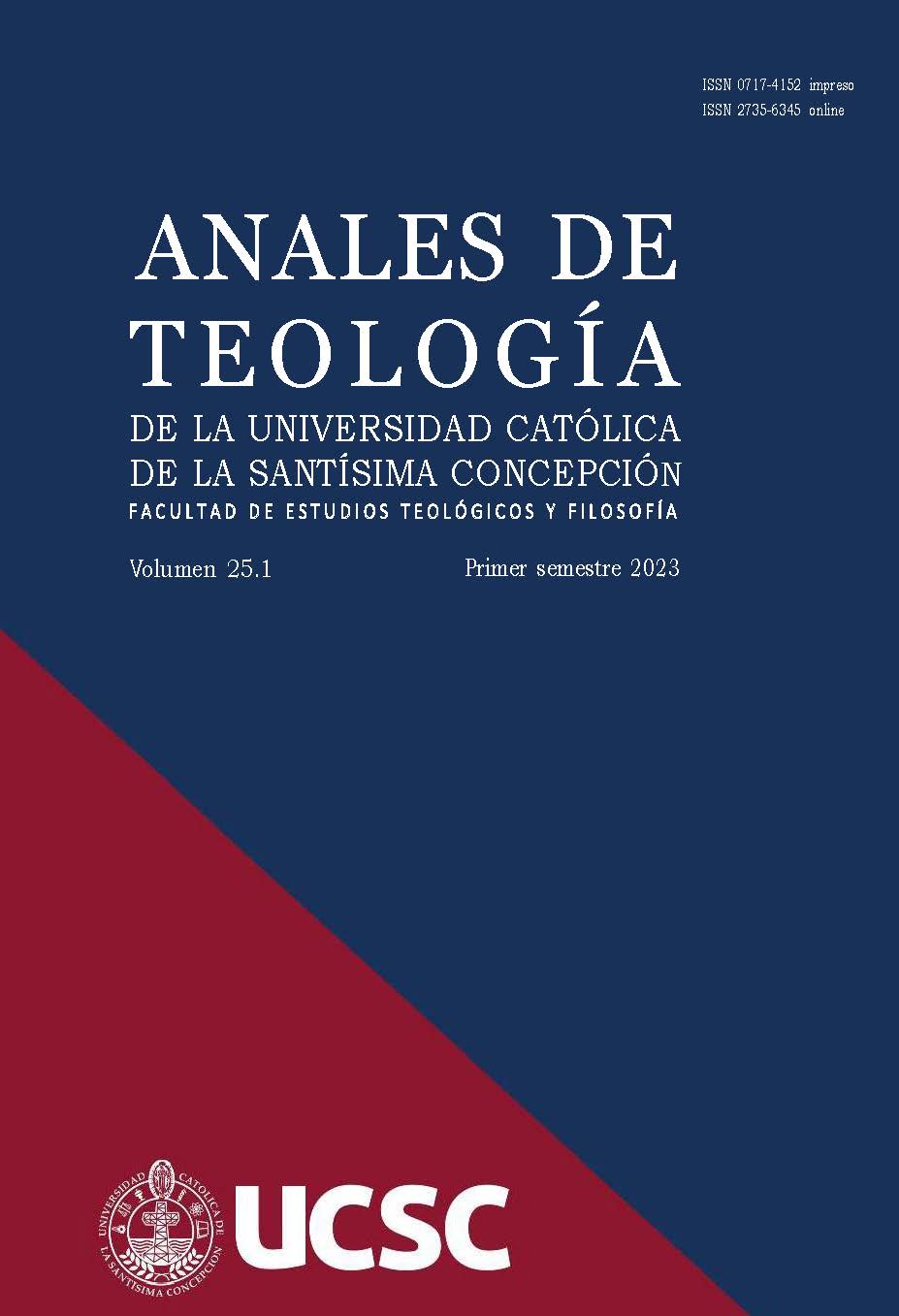 Downloads
How to Cite
Mejía, I. (2023). Compassion as the foundation of interreligious and cultural dialogue. Anales De Teología, 25(1), 107–116. https://doi.org/10.21703/2735-63452023250107
License
Copyright (c) 2023 Iván Mejía
This work is licensed under a Creative Commons Attribution-NonCommercial 4.0 International License.
The Anales de Teología is an open access journal and does not charge for publication. In addition, it regulates its Copyright and access policy according to the Creative Commons Attribution-NonCommercial 4.0 International Public License (CC BY-NC 4.0), therefore sharing (reproducing and distributing the material in any medium or format) and adaptation (modifying, transforming, and creating from the material) is allowed as long as proper credit is given and the citation is included with the corresponding data. Moreover, it is not allowed to use the material for commercial purposes.